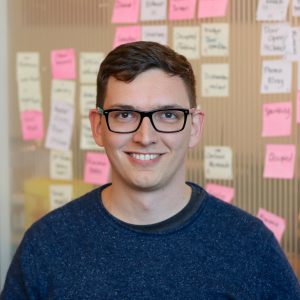 Sven Mayer is an assistant professor (Jun.-Prof.) of computer science at LMU Munich (Germany). His research sits at the intersection between Human-Computer Interaction and Artificial Intelligence, where he focuses on the next generation of computing systems. He uses artificial intelligence to design, build, and evaluate future human-centered interfaces. In particular, he envisions enabling humans to outperform their performance in collaboration with the machine. He focuses on areas such as augmented and virtual reality, mobile scenarios, and robotics.
Before his faculty appointment, he was a postdoctoral researcher at the Carnegie Mellon University (Pittsburgh, PA, USA) in the Future Interfaces Group, led by Chris Harrison. In March 2019, he received a Ph.D. (Dr. rer. nat.) under the supervision of Niels Henze from the University of Stuttgart, Germany. As a Ph.D. student, he was part of the Cluster of Excellence for Simulation Technology (SimTech). In 2015, he spent 3 months at the University of Glasgow, UK, in the group of Roderick Murray-Smith. As a guest researcher for the Max Planck Institute for Biological Cybernetics in Tübingen, Germany, he worked under the supervision of Lewis Chuang. Before his Ph.D., he received his Dipl.-Inf. (M.Sc. equivalent) at the University of Stuttgart.
For more detailed information, please see my CV.
Co-Chair of Scientific Events
Editorial Boards
Scientific Committee Duties
Reviewing Duties
Awards
Advised Student Assistants for Research Projects
Hosted Interns
Student Volunteer Duties